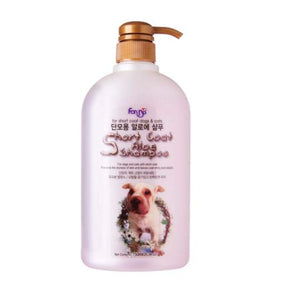 Forbis Short Coat Aloe Shampoo for All Dogs & Cats
Rs. 760.75

Rs. 760.75

Save Rs. 134.25
Tax included.
---
---
Short Coat Aloe Shampoo helps prevent the dryness of skin and leaves coat shiny and elastic.
For All Dogs & Cats whose present hair is less than 3 cm long.
Characteristics : Forcans Short Coat Aloe Shampoo containing high functional aloe vera gel effectively protects sensitive skin which can be easily damaged by UV because of its short coat. Also, it helps increase metabolism, oil and moisture balance of skin & hair.
Directions for use : Before starting shampoo, loosen the tangled hair and then wet the hair with lukewarm water thoroughly and apply an adequate amount of the shampoo. Once you have shampooed the hair, rinse off the until the lather is gone completely after shampoo. For best results, leave it on coat for about 5 minutes to allow time for the optical enhancing minerals to work their wonders. Rinse off thoroughly with warm water. Dry thoroughly with towel and electric dryer.
Attention : Require to take necessary precautions if it is under for the medical treatment for various diseases, or if skin abnormalities occur, such as occurrence of red spots, swells and itching etc. while using the shampoo, for those having a weak constitution or under medication. For using on less than 6 weeks after birth old baby, the old-aged or for the ones who has just delivered babies, please consult a veterinarian and follow his or her instruction. Be careful not to get it in their eyes, but if it has contacted with the eyes, rinse it out with clean water thoroughly. Store in a cool place away from direct sunlight. Keep it in a place out of the reach of the children or animals.
---
We Also Recommend
---